Confession: I have a little bit of a bag problem.
Shoes? Eh. I ruin them within three seconds of stepping foot out the door, so they're not really something I'm interested in spending a ton of money on. Jewelry, same thing: I am a professional loser-of-things, so owning, say, diamonds is way more stress than its worth.
But bags?
Bags, I adore.
This fall, here's what I'm into…
STRUCTURE

L to R: Melie Bianco, Z Spoke Zac Posen, Loeffler Randall
What's extra-nice about a structured bag is that if you pick one that's roomy and has bunches of pockets it becomes a perfect Mama Bag (as in, you can look polished and glamorous while simultaneously toting along assorted toys, bottles, diapers, and baggies of Cheerios). Sure, slouchy bags can hold all those things, too, but in my experience a little structure goes a long way towards preventing your purse from turning into The Black Hole Of Lost Binkie Despair.
EXOTIC PRINTS

L to R: Alexander Wang, Big Buddha, Dolce & Gabbana 
In my book, leopard and snakeskin are basically neutrals, so the best thing about this trend is that these pieces will go with everything (seriously, everything) in your closet (I especially love versions with gold detailing). If you're feeling delicate, go for just a hint of print (like that gorgeous Alexander Wang pictured above); if you're feeling bold, go for allover animal.
BURGUNDY

L to R: Rachel Zoe, Rebecca Minkoff, Z Spoke Zac Posen
A red bag is another of those surprising pieces that unexpectedly goes with everything in your closet, but right now what we're seeing are slightly deeper burgundy shades that are just perfect for crunching about in the fall leaves (or, you know, cocktails with your girlfriends; whatever's your thing). That Rachel Zoe bag up there might just be the be-all, end-all of fall accessory purchases.
So there you have it: my favorite fall handbags.
Oh, fine…just one more: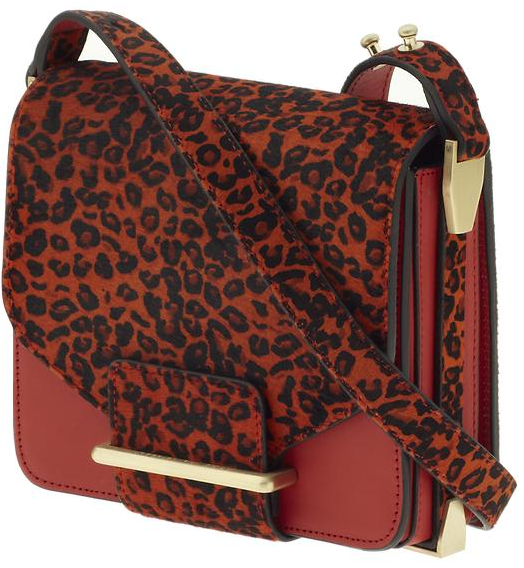 This Loeffler Randall just so happens to be structured, animal-printed, and burgundy…and so this one is coming home with me.